The Miami Pantera, Don Murray, October 8, 1999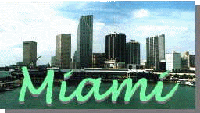 While in Miami, Florida, October 8, 1999 we had an opportunity to meet with Don Murray and talk with him about his 1971 Euro version Pantera #1158. Update: 2008, Don now lives in Fredericksburg, TX.
Not only is this one of the approximately 400 pushbutton Panteras built, it is also one of the Panteras that was completely assembled at Vignale before the assembly line at Modena was ready to take partially assembled cars for finishing. Pushbutton refers to the door opening mechanism, which is a round chrome button like that on the Mangusta. Also unusual on this car is the small script badging on the rear. Pantera on the left and deTomaso on the right. The small size really challenges those who are behind Don as to "What is it?"

Don Murray and his fabulous 1971 YELLOW Pantera
Since this is an Euro car, all gauges are in Italian. It also means you have to think metric. The speedo goes to 300! That always gets a big wideyed finger pointing response from any "checker-outers"!
The original owner took the car to Modena in early 1974 to have it brought up to a semi-GTS look, 8 and 10 Campys, Riveted Flares and GTS padded steering wheel. The original engine and Series 1 ZF were pulled and replaced with a GTS engine and Series 2 ZF, and the GTS air horns. So, it's a 71 Pantera GTS, after the fact and somewhat unique! The car remained in Italy until 1985 when it was shipped to the US.
GTS wheel flares, 10" Campys, neat Lambo type mirror, back trunk release in the door jam and small marker light.

In 1995 the 351 Cleveland was rebuilt by a Texas offshore powerboat racing engine shop. The car was originally red and was repainted 72 Corvette sunflower yellow which is a bit darker than the Pantera yellow for that year. Despite the fact that it is a bit darker shade of yellow... it still screams YELLOW!
Don purchased the car in 1996 while he was looking for a '68 Pontiac GTO! That is an entire story in itself! The Pantera is not Donís daily driver, but it goes out for any excuse! There are a multitude of Ferrari, Lotus, Porsche, Mustang and Corvette machines in Donís neighborhood, so he must keep up the visual impact of the XOTICAT on the roads!
As time permits, Don is working on improving or upgrading different systems of the car. Don said, "the radio did not work when I bought the car...it still doesn't work! Love that outside music!".
While we were taking pictures of Don's Pantera an older gentleman riding a bike stopped by to tell us that he had owned a white Pantera and said "it was the best running car I ever had". "That is when it was running", he said. From the way he looked at Don's Pantera, we think he missed his Pantera, running or not!
We had an opportunity to follow Don for awhile on I95 as we headed North. The Pantera looked pretty cool cruising along on I95. The car has a Mindtrain exhaust system and makes beautiful Pantera sounds. Don braved the Miami rain showers to drive all the way down to the Coconut Grove, Double Tree Inn from the Doral area West of Miami so we could meet.
Thanks Don!