The Pantera Place
"Your de Tomaso Connection"
What Was Happening In 1971
News - Corvette - Ferrari - Pantera - Music
The 1971 News Events
The 26th Amendment lowers the United States voting age from 21 to 18.
Walt Disney World opened October 1.
Legislation demands that all US cars must be able to run on un leaded fuel.
South Vietnamese forces begin an offensive in Cambodia with American support, but are repulsed after six weeks; the United States reduces its troops in Vietnam to about 200,000.
Nixion pledges to end US involvement in Vietnam.
A longshoreman's strike continues on both coasts with no end in sight, and so far President Nixon has refused to intervene.
Charles Manson sentenced to death.
New compact Ford Pinto.
Chinese defense minister Lin Pao attempts a failed coup against Mao Zedong and is killed in a plane crash. China is officially seated in the United States and launches its first space satellite.
Masterpiece Theater, All in the Family, and The Electric Company premiere on television.
Nixon abolishes seven percent excise tax on cars and imposes ten percent surcharge on imported cars.
Soviet dissident Anderi Solzhenitsyn receives the Nobel Prize for Literature.
The Supreme Court upholds a measure to bus children in order to enforce integration in schools; a bussing plan imposed in Austin, Texas, draws the criticism of Alabama Governor George Wallace, who had previously urged southern senators to defy integration.
The movie "The Last Picture Show" opens, featuring Cybill Shepherd.
Ford offers the awesome power Boss 351 Mustang
Soft contact lenses (invented in 1962) receive FDA approval.
Muhammad Ali cleared of draft dodging.
Cigarette sales top $540 billion despite a partial ban on cigarette advertising. A report from British experts likens the mortality rates from cigarette smoking to that of virulent cholera or typhoid epidemics.
Concerned about inflation, President Richard Nixon announces a "New Economic Policy'' that includes a 90-day wage freeze, the imposition of a 10% import surcharge, and a freeze on the conversion of dollars to gold. Despite a record one-day jump of almost 33 points in the Dow, the uncooperative AFL-CIO has "absolutely no faith'' in the measure.
The San Francisco Giants beat the Pittsburgh Pirates 5 to 4 in the National League
"The Pentagon Papers," a highly classified document detailing U.S. involvement in Vietnam, is submitted to the New York Times and The Washington Post by Defense Department official Daniel Ellsberg.
South Vietnam prepares for an October 3 presidential election, in which Nguyen Van Thieu is the unopposed candidate.
Astronauts drive on the Moon in lunar buggy.
Intel invents the 4004 Microprocessor. By 1974 Intel had created the 8080 CPU. These events were going to create dramatic opportunities in my life but in 1971 I didnít know it. Back then I was just a tall skinny kid working for the NCR Corporation and I wanted a Pantera.
The 1971 High Performance and Exotic Sports Cars
1971 Chevrolet Corvette
In 1971 GM sold 21,801 Corvettes. The base Corvette sold for about $5,259 and was available with a 350cid engine with 330hp, up to a 454cid with 425hp. The the four speed, 454cid/425hp Corvette had a zero to sixty time of 6.5 seconds (Car Craft 8/71). The Corvette was available with an AM-FM radio, power steering and white letter tires.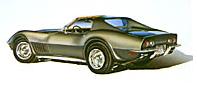 The 1971 Corvette
1971 Ferrari 365 GTS/4 Daytona Spider
The the original 1971 Ferrari 365 GTS/4 Daytona Spider selling price was in the $20,000 range. The car was powered by a 60 degree V12 engine with dual overhead cams, 6 Weber 40 DCN/20 carburetors, double coil-ignition making 352hp at 7,500 rpm. The car was equipped with a five speed transmission and four-wheel disk brakes.
The 1971 Ferrari
Click image to view
1971 de Tomaso Pantera
The 1971 de Tomaso Pantera sold for about $10,000. The car was powered by a 351cid/330hp Ford Cleveland engine with a five speed transaxle and was equipped with power assisted four-wheel disk brakes and rack and pinion steering. The Pantera had a zero to sixty time of 5.5 seconds (Car and Driver 8/71). Comparing the Pantera shape and design to the 1971 Corvette and the Ferrari you can see how unique and advanced the Pantera design was in 1971 (my opinion). Other than wider wheels, wider tires, flares and added body panels the base design of the Pantera did not change much from 1971 to the very last Pantera 200 in 1996. The designer of the de Tomaso Pantera, Tom Tjaarda, deserves tremendous credit for his ability to design such a beautiful and timeless machine.
The 1971 Pantera on the left and the 1996 Pantera 200 on the right
Click image to view
1971 Music
January
The Temptations - "Just My Imagination (Running Away With Me)"
February
James Brown - "Soul Power"
Crosby, Stills, Nash & Young - 4 Way Street
Dave Mason and Cass Elliot - Dave Mason & Cass Elliot
Aretha Franklin - "You're All I Need To Get By"
Paul McCartney - "Another Day"
March
David Crosby - If I Could Only Remember My Name
The Faces - Long Player
Jimi Hendrix - The Cry Of Love
Carole King - Tapestry
The Kinks - Percy
Stevie Wonder - "We Can Work It Out"
Aretha Franklin - "Bridge Over Troubled Water"
Yes - The Yes Album
April
The Doors - L.A. Woman
Elton John - Friends
Elton John - 11-17-70
Carole King - "It's Too Late"
Ringo Starr - "It Don't Come Easy"
The Temptations - Sky's The Limit
The Rolling Stones - "Brown Sugar" (UK) Play
Paul McCartney - Ram
The Rolling Stones - Sticky Fingers (UK)
May
Aretha Franklin - Live At Fillmore West
Jethro Tull - Aqualung
Graham Nash - Songs For Beginners
Rod Stewart - Every Picture Tells A Story
June
Joni Mitchell - Blue
The Rolling Stones - "Wild Horses" (USA) Play
Stevie Wonder - Where I'm Coming From
The Byrds - Byrdmaniax
July
The Allman Brothers - At Fillmore East
Blood, Sweat & Tears - B, S & T 4
Rod Stewart - "Maggie May"
Stephen Stills - Stephen Stills 2
The Who - Who's Next
Jim Morrison dies in Paris of mysterious causes
Aretha Franklin - "Spanish Harlem"
August
James Brown - Hot Pants
James Brown - "Make It Funky"
The Jimi Hendrix Experience - Experience
The Moody Blues - Every Good Boy Deserves Favor
Stevie Wonder - "If You Really Love Me"
Paul McCartney - "Uncle Albert/Admiral Halsey"
September
The Jefferson Airplane - Bark
Traffic - Welcome To The Canteen
John Lennon - Imagine
October
Jimi Hendrix - Rainbow Bridge
Elton John - Madman Across The Water
Santana - Santana III
The Temptations - "Superstar (Remember How You Got Where You Are)"
Aretha Franklin - "Rock Steady"
November
James Brown - "I'm A Greedy Man"
Jimi Hendrix - Isle Of Wight
Paul Kantner & Grace Slick, Sunfighter
The Kinks - Muswell Hillbillies
Traffic - The Low Spark Of High Heeled Boys
Led Zeppelin - Untitled
The Byrds - Farther Along
December
James Brown - Revolution Of The Mind - Live At The Apollo Volume III
The Faces - A Nod Is As Good As A Wink... To A Blind Horse
George Harrison - The Concert For Bangla Desh
Carole King - Music
Billy Preston - "Outa Space"
Wings - Wings Wild Life
The Faces - A Nod Is As Good As A Wink.