The Pantera Place
"Your de Tomaso Connection"
Key Warning Chime
By Mike Dailey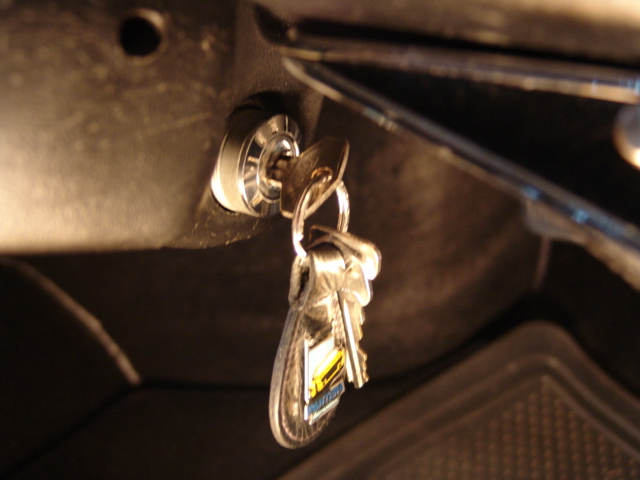 My key warning buzzer as been working intermittently lately and I decided rather than replacing it with another annoying buzzer unit I'd replace it with a chime unit. Radio Shack sells a small chime unit that fits into the same space as the buzzer. The part number is 273-071 and should be in stock at your local store.

On 1971 cars like mine the key warning buzzer is located in the relay group that is in the passenger foot well behind the glove box. The cover on the relay group is held on with a wing nut. Be sure to disconnect the battery before removing the cover.

After the cover is removed the buzzer unit can be removed. It is held in place with a nut and has two wires connected to it.

The mounting tab on the chime unit is too small to use with the original mounting stud so I super glued a strip of ABS plastic on the bottom of the chime and drilled a hole in the end of the strip to form a new mounting tab.

The chime unit has three wires. I used Radio Shack spade terminal #64-3038 and crimp the black and blue wires together in one spade connector. The red wire was crimped into a second spade connector. The spade connectors insert into the original wires that were connected to the buzzer unit. You may need to close the original connectors a little with a pair of pliers so the connectors slide together snugly. The black/blue chime connector goes to the green connector and the red chime connector goes to the gray connector.

Before mounting the chime I covered one half of the chime speaker with tape to reduce the sound level.

After the chime was mounted I replaced the relay group cover and connected the battery. Play short chime video sample. The chime has a pleasant sound that I prefer over the buzzer.

Update

Later on I found a NOS buzzer on ebay for less than $30 with shipping. I removed the chime and installed the buzzer. These are pretty costly from the Pantera vendors.