The Pantera Place
"Your de Tomaso Connection"
The Fifth Year With #1887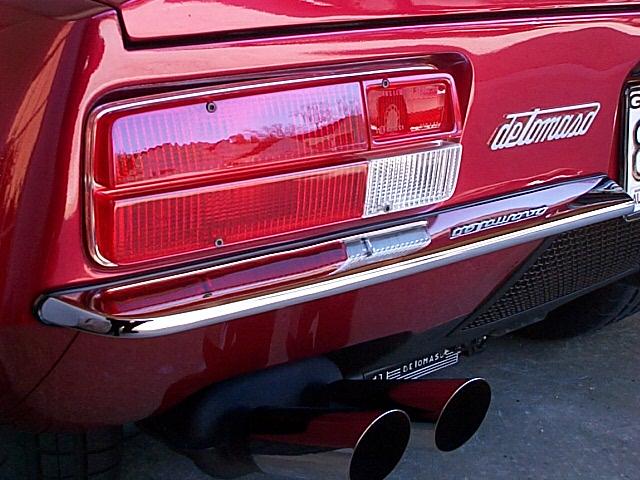 Today, June 12, 2003 is the fifth anniversary of my Pantera purchase. I didnít have any major goals for the Pantera this year other than the possibility of doing a new Hypo engine. The engine I have now has about 12k miles, but it was built back in 1991 and the guy that did the build in Texas couldnít remember much about what was done to the engine. He is a well known an excellent engine builder though. After much debate, I decided that I would just leave it alone, have fun and drive. I logged about 800 miles this year and this rate the engine should last awhile.

The only unscheduled maintenance this year was to replace the seal washers on the back lower carburetor float bowel bolts and replace the A/C system expansion valve. I completed the usual oil, oil filter air filter changes and the annual flush of the brake and clutch fluid.

This year, I detailed the taillight housings and installed some NOS lenses, had the back trunk liner felt replaced, added a de Tomaso V8 logo on the trunk lid, installed a heater shut off valve, installed Sylvania Halogen XtraVision headlights and detailed the headlight buckets, replaced both back bumpers with NOS units, installed some new visor mounts and installed Meriah cooling fans. After installing the new felt I moved all of my tools to the front trunk and Iím using a soft sided tool bag that fits inside the center of the spare tire.

The absolute pinnacle of the year was having the car win the Peopleís Choice award for the de Tomaso Pantera class at the October 2002, Atlanta Italian Car Day (AICD). This year was an especially important AICD because there were 28 Panteras present at the show from all over the Southeast, e.g. Alabama, Georgia, Tennessee, North Carolina, South Carolina and Florida. The best of the best Panteraís in the Southeast and the show was fantastic. Meeting and getting to know all of my fellow Pantera owners in the Southeast was a really neat experience.

This year, by acting very fast, I was able to reserve one of the new Georgia seven digit license plates with the name "PANTERA" and I'm awaiting my license renewal in August of 2004 to have the plate for installation on the car.

I donít have any goals for the next year other than the normal maintenance work and having fun with the car, but as the year progress Iím sure Iíll think of something new to add!