The Pantera Place
"Your de Tomaso Connection"
Las Vegas Fun Rally 2007
By Chuck Engles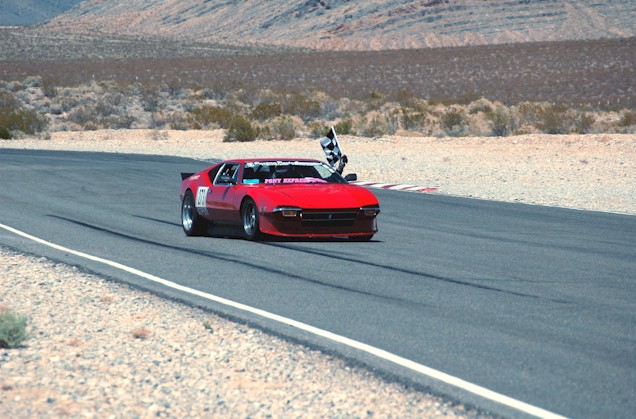 Race Winner victory lap photo!
Larry Stock reveling in his first Vegas Pantera Race win after years of facing Dennis Quella and Gregg Esakoff.

Larry Stock entering turn 7
Panteras on the track

Pit picture of red vintage Pantera racer of Dale Eriksen and yellow Pantera of Jason Eaton.

A real GT5S about to enter turn seven. Owned by the Sloan brothers. One of *five* GT5Ss at the event!

Darryl Johnson's car receives track side repairs to the right front brakes.
Last minute technical adjustments on Larry Stock's Pantera, which did win the Exhibition Race.

Thursday.
Lined up to enter the track, Jim Kuehne controls the start of Darryl Johnson, Dorsey Chelsee and Tom Di Iulio (front to rear).

Race grid for the start of the Exhibition race. Left: Tom Bosworth and right: Larry Stock

Tom Bosworth leads Larry Stock through the sweeping turn two at Spring Mountain

Jason Eaton on the upper road course near turn six at speed

Tom Di Iulio at speed

In the pits for some high test octane

David Tucker wrestling with his engine gremlin in Vegas on his really long distance transcontinental Pantera drive.
The ultimate culprit was vapor lock!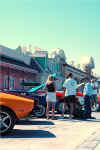 A scene from the Saturday car show at the Orlean Hotel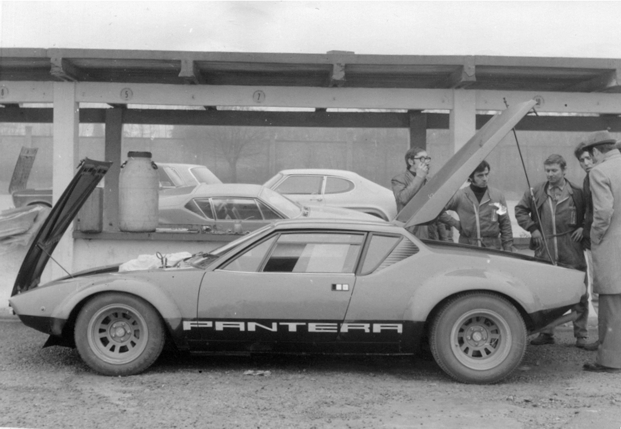 During the Rally, Jim Gray and I (as Simon Pure LLC) created a contest. We had the above old vintage black and white Pantera photo taken at a track of the factory mechanics in the early seventies standing around a Pantera. We asked people to submit humorous captions with the best caption winning a Pantera polo shirt.

The winning caption: "If you didn't pull the engine.....who the hell did!!" - Klaus and Marshall

Honorable mentions:

"So how long do you think it will take to put the engine back in front where it belongs?" John Hansen

"The engine is here somewhere!" - Willie Eisele

" Must have bought his deck lid shocks from Hall." - Russ

" Pantera---where design, testoterone & horsepower collide." - J. Goodall

" Anyone know the Italian word for 'mechanic'?" - Steve Murch

" What is that thing sticking out the side of the block?" -Jim Nowlin

" I think we need a longer hood pro." - Klaus and Marshall

" We just-a raiza deez-a built-ina wing an-a I guaran-a-tee dis-a car a-gonna stick-a like-a glue." - Mike Becker

" A little Armor-All tire dressing and this ground-up restoration is complete!" - Klaus and Marshall

" Do you think anyone will notice?" - Yvette